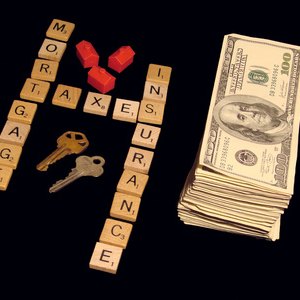 •••
real estate games image by Pix by Marti from <a href='http://www.fotolia.com'>Fotolia.com</a>
The Federal Housing Authority (FHA) is a government agency formed as part of the National Housing Act of 1934. To help stabilize the housing market and assist middle class Americans buy modest and well-built homes, the agency insures more than 4.5 million home loans through FHA financing. Now part of the Department of Housing and Urban Development (HUD), FHA has implemented several specific underwriting guidelines, most notably its debt to income ratio requirements and maximum allowable loan amounts.
FHA Application Process
The application process for an FHA loan is the same as for a conventional mortgage in its early stages. Borrowers must produce copies of their two most recent W-2, 1099 or 1040 Forms as well as statements showing bank, stock, retirement or other investment account balances. Each borrower must also complete a standard application form (1003) and sign FHA disclosures, which explain the details of the financing. Borrowers must also pay for a real estate appraisal, which must meet FHA property inspection guidelines.
Income and Debt Ratios
Contrary to some beliefs, FHA loans are not aimed at helping low-income families buy homes. While first-time buyers who may be denied conventional financing are often approved for FHA home loans, the program is geared towards assisting borrowers with solid credit scores and the financial ability to make monthly payments. According to FHA underwriting guidelines, borrowers are not capped at a maximum allowable monthly or annual income. In fact, the agency allows debt to income ratios that fall within the 31/43 range. This means 31 percent of a borrower's gross monthly income can be used for housing expenses while up to 43 percent can be used for non-housing debt. This criteria is slightly more lenient than those associated with conventional mortgage programs.
Loan Limits
The maximum FHA loan amount cap is adjusted annually and tied to geographic real estate market trends. For example, in a California county, where real estate values are higher than in a specific area in Washington state, the maximum loan amount allowed would be higher. The agency determines these caps by examining median costs of residential real estate in each area where it promises to buy loans from lenders (metropolitan statistical areas, or MSAs). Approved lenders and real estate agents are required to know FHA maximum mortgage amounts in their areas.
FHA Refinance
Refinancing of FHA loans falls under two categories. Streamline refinancing pertains to current FHA borrowers who refinance their loans into another FHA program in order to secure a lower interest rate and better terms. In order to streamline, existing FHA loans must be at least six months old, and closing costs must be paid out of pocket. Appraisals are rarely required. Conventional to FHA refinances require real estate appraisals and allow those with non-FHA loans to take advantage of FHA terms, such as no-penalty, cash-out transactions and lenient debt to income guidelines. Maximum loan limits apply on all FHA refinance transactions.
Interest Rates
Interest rates on FHA loans are set by HUD-approved lenders. HUD alerts each bank regarding the daily premiums available on each loan, and the banks set their pricing accordingly. Typically, FHA interest rates are generally in line with conventional rates, depending on the lender.
Writer Bio
Jim Hagerty is a writer and journalist who began writing professionally in 1996. He has had articles published in the "Rock River Times," "Builder's Journal" and various websites. He earned a Bachelor of Science in public relations and journalism from Northern Michigan University in Marquette.