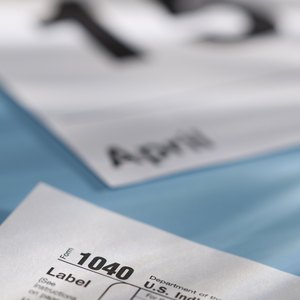 •••
Comstock Images/Comstock/Getty Images
Whether you file your tax return on paper or you file it electronically, you have to decide which tax return form to use in the IRS 1040 series, which includes Form 1040, Form 1040A and Form 1040-EZ. Each of these returns accomplishes two of the same goals – reporting the income you earned to the IRS and determining if you owe more income tax than you've already paid during the year (or if you'll receive a refund for tax you've overpaid). But the path to these goals takes a three-way fork, depending on which tax return you file. Form 1040A hits the middle ground between the 1040 and the 1040-EZ, both in length and in latitude of what you can report on it.
1040 Vs. 1040A and 1040-EZ
As you'd expect from its name, the 1040-EZ is the easiest tax return to complete. It's the shortest of the 1040 tax return series with a fairly straightforward format that makes it the simplest of the forms to file. The most complex tax form is the 1040, which is also called "the long form," and the 1040A is the "short form."
You'll have to meet certain guidelines to use the 1040-EZ, but, if you are filing single with an annual income of less than $100,000, no dependents and no itemized deductions, the 1040-EZ may be for you. However, if your income is more than $100,000, you itemize deductions and meet other filing guidelines, the 1040 may be the return you need. But if you choose to take the standard deduction (instead of itemizing your deductions) and your annual income is less than $100,000, you may be able to use the 1040A instead of the lengthier 1040.
Form 1040A Instructions
Other than your taxpayer identifying information at the top of the return, there are 51 form fields on the 1040A. The IRS includes filing requirements, line-by-line guidance, tax tables and refund information in the instructions that accompany Form 1040A. Visit IRS.gov/forms and type "1040A instructions" in the search field to find these instructions that help you fill out your 1040A.
Form 1040A Worksheets
Included in the 1040A instructions are worksheets for manually computing certain amounts that you'll transfer to a line on your return. For example, there's a worksheet titled "Simplified Method," which helps you calculate the taxable portion of your pension or annuity. Another worksheet helps you calculate the taxable portion of your Social Security benefits. And the IRA Deduction Worksheet walks you through the steps of figuring whether any portion of the amounts you deposited into your IRA are deductible or nondeductible contributions. Other worksheets include the Alternative Minimum Tax Worksheet, the Student Loan Deduction Worksheet and the Child Tax Care Worksheet.
Electronic Filing Option for 1040A
If the thought of reviewing pages of instructions, filling out a paper tax return and making manual calculations on worksheets makes you cringe, the IRS offers an easier option … and it's free. If your annual income is less than $66,000, you can use IRS "Free File Software" to file your tax return electronically. Step-by-step prompts will guide you as you prepare your tax return. Regardless of the amount of your annual income, you can use the IRS "Free File Fillable Forms" option to use an electronic version of paper tax returns. You'll have to know how to prepare your own taxes because this option only offers basic instructions, but at least the math is calculated for you. Access these two online tools by visiting IRS.gov/freefile.
2018 1040A Replacement Tax Return
Beginning with the 2018 tax year (for returns filed in 2019), taxpayers will not have to choose among the 1040, 1040A or 1040-EZ returns. The IRS is debuting a new 1040 form, which consolidates all three 1040 forms into one streamlined tax return. The instructions on this new form may change to fit the newly formatted tax return.
References
Writer Bio
Victoria Lee Blackstone was formerly with Freddie Mac's mortgage acquisition department, where she funded multi-million-dollar loan pools for primary lending institutions, worked on a mortgage fraud task force and wrote the convertible ARM section of the company's policies and procedures manual. Currently, Blackstone is a professional writer with expertise in the fields of mortgage, finance, budgeting and tax. She is the author of more than 2,000 published works for newspapers, magazines, online publications and individual clients.