How Does a Federal Pell Grant Work?
by Amy S. Jorgensen ; Updated July 27, 2017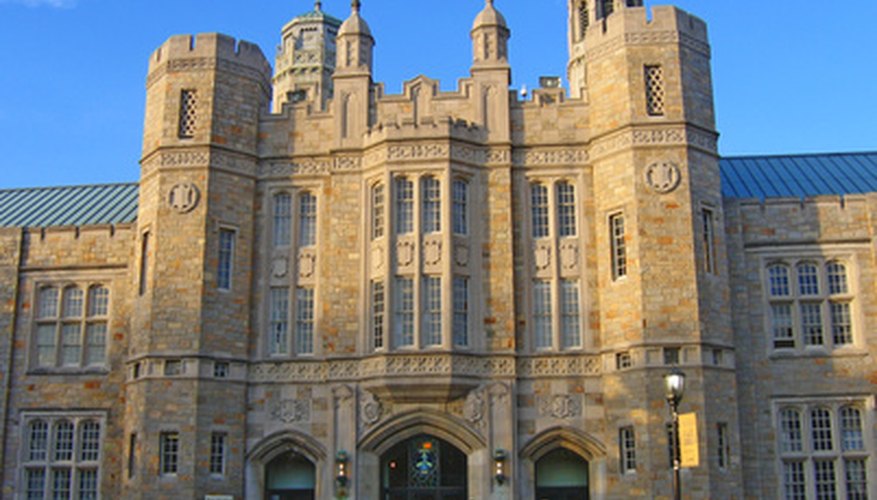 What is the Federal Pell Grant?
The federal Pell Grant program was established to help lower-income students afford college. More than 5,400 universities in the United States participate in the program. This grant program was instated through the Higher Education Act of 1965 and was named for one of its supporters, Sen. Claiborne Pell from Rhode Island.
Who is Eligible for a Federal Pell Grant?
The government determines eligibility based on several factors. The first is how much money the student's family can be expected to pay for the education. This is known as the Expected Family Contribution (EFC) and is based on income reported on the family's annual federal income taxes. Students must include their parents' income unless they are married, have a child, or are over 24 years of age.
Other eligibility factors include scholastic performance while in college, full- or part-time student status, the length of attendance and cost of attendance. If the family's EFC (which is determined by combining an undisclosed percentage of net income and net assets) exceeds the cost of tuition, the student will be ineligible to receive the grant. Students who do not successfully complete their academic work may lose eligibility for the grants. Grants are also only available for full-time students. What is considered a full-time student is determined by the individual educational facilities.
How to Qualify for a Federal Pell Grant?
Even if you are not sure about your eligibility for a federal Pell Grant, you should complete the Free Application for Federal Student Aid (FAFSA). The information provided on the application will determine whether or not you are eligible to receive a Pell Grant, as well as other types of federal aid which are not based on income, such as the Teacher Education Assistance for College and Higher Education Grant.
The FAFSA must also be submitted if you want to qualify for federal student loans (Stafford or PLUS) , work study programs through your school, or state-based college grants. The application is available online and through the financial office of the schools.
You must submit the completed application between Jan. 1 and June 30 to obtain aid for the September school year. Deadlines for state-based aid may be earlier.
What Happens After Submitting the FAFSA?
Once you complete and submit the FAFSA, you will receive a Student Aid Report (SAR). The SAR is basically a summary of all the information you have provided through your application and an estimate of the EFC. You will need to double-check all of the information to make sure everything is correct. If no changes are needed, you don't have to do anything. The federal government will submit the information directly to the vocational college or university you have listed on the FAFSA. If changes are needed, you will need to change them on the SAR and resubmit it either by mail or electronically. A corrected SAR will be sent and you'll need to repeat the process.
What Does the School Do with My Federal Pell Grant?
The grant money can be used to pay for any qualifying school expenses, including tuition, housing and books. Generally, the school will apply the grant money to your remaining tuition first. If any money is left over, it can be applied towards these other expenses or can be refunded to you by the school.
How Much Can I Receive from a Federal Pell Grant?
The maximum amount you can receive depends on the federal funding for the program, which does fluctuate. For the 2008 to 2009 school year, however, the maximum amount you could receive was $4,731. The amount you actually receive depends on the same factors that determine your eligibility. You can get an estimate on how much you will receive by using the Financial Aid Wizard which is available through the Federal Student Aid web site.
Photo Credits
college's building image by Leonid Tarassishin from Fotolia.com
Cite this Article
Choose Citation Style
S., Amy. "How Does a Federal Pell Grant Work?" Pocket Sense, https://pocketsense.com/federal-pell-grant-work-4564966.html. 27 July 2017.
S., Amy. (2017, July 27). How Does a Federal Pell Grant Work? Pocket Sense. Retrieved from https://pocketsense.com/federal-pell-grant-work-4564966.html
S., Amy. "How Does a Federal Pell Grant Work?" last modified July 27, 2017. https://pocketsense.com/federal-pell-grant-work-4564966.html
Note: Depending on which text editor you're pasting into, you might have to add the italics to the site name.