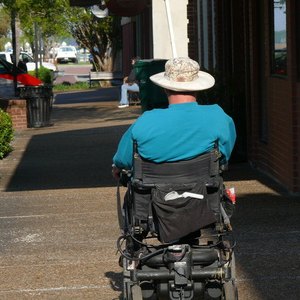 •••
man in wheelchair image by jimcox40 from Fotolia.com
If you live in Ohio and you're looking for a way to help the less fortunate, why not start by donating something you no longer need. Your old wheelchair could be just the thing to make someone's life easier. The Americans with Disabilities Act was designed to enable a better quality of life for those who are wheelchair-bound. For many people living in poverty worldwide, a wheelchair is extraordinarily expensive and unattainable. Fortunately, in the state of Ohio, several charitable organizations will assist you in donating your wheelchair.
Donate to a local organization. Several churches and local charities in the state of Ohio will accept your gently used wheelchair. It should be free of structural damage and not need major refurbishment. Contact your local social service agencies, community centers and assisted-living facilities, and inquire about whether they accept medical equipment donations such as wheelchairs. If you live near or are willing to travel to Akron, Ohio, then Wheels of Hope is an organization that specializes in collecting and distributing wheel chairs to those in need.
Contact a major charitable organization. Two of the largest donation centers for mobility equipment are The Salvation Army and The Goodwill Center. They are located throughout most cities in the state of Ohio. Most locations have drop-off centers where you can leave your old wheelchair. An employee will inspect the quality and determine the value before giving you a receipt for tax-filing purposes.
Sign up with a referral service. LifeNets is an international service that seeks to connect those who want to donate wheelchairs with those in need. You can post the model and style of your wheelchair (for example, motorized pediatric) and indicate that your chair is located in the state of Ohio. Your listing will be posted for three months. If there is a match from an interested party, LifeNets will facilitate the exchange, and you will receive a tax-donation receipt after the transaction is complete.
References
Writer Bio
Collene Lawhorn-Sanchez is a writer and medical researcher who has been writing professionally since 2008. She has written for various online sources, medical journals and pharmaceutical companies. She has a Bachelor of Science from Rochester Institute of Technology, a Master of Science in education from the University of Pennsylvania and a Doctor of Philosophy in neuroscience from the Albert Einstein College of Medicine.