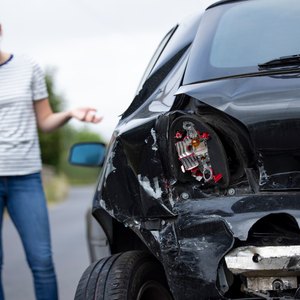 •••
Daisy-Daisy/iStock/GettyImages
If you own and drive a car, you need car insurance coverage. No exceptions. In the first place, most states require drivers to have at least a minimum amount of liability insurance coverage. If the police stop you and find that you're driving without an auto insurance policy, you will probably get a ticket, have to pay fines and may have your license suspended.
In addition, you need auto insurance to protect yourself from potentially disastrous financial difficulties that could result from being involved in an accident.
Here are the types of insurance you should have and why you need them.
Liability Insurance
Liability car insurance covers injuries and damages to other people when you are at fault for an accident. The coverage limits are typically expressed as three numbers: 25,000/50,000/20,000.
The first number means that the policy will cover a maximum of $25,000 in bodily injury claims to one person. The second number means the maximum coverage for bodily injury to all injured parties involved in an accident is $50,000. The third number means that $20,000 is the maximum coverage for property damage.
In addition to meeting your state's minimum requirements for liability insurance, you may want to consider additional coverage for two reasons: your driving record and your assets. If you have a history of receiving traffic violations such as speeding tickets, you might be more at risk to cause an accident. In addition, if you live and drive in a densely populated area, there is more opportunity to be involved in an accident.
The amount of assets you own is also a factor. Consider this example. Suppose you are at fault in an accident that caused $140,000 in property damage, but you only had your state's minimum liability coverage for damages of $25,000. This leaves a difference of $115,000 that the other party can sue you for. If you lose the lawsuit and are a homeowner, you could be at risk of losing your house or a large portion of your savings.
Liability does not cover any of your medical bills or damage to your property when you are at fault in an accident. To obtain coverage for yourself, your car insurance needs to include collision coverage and personal injury protection.
Collision Car Insurance
Collision car insurance will cover damages to your vehicle from an accident. States do not require you to have collision coverage. However, if you have a loan on your car or it is leased, your lender may require collision insurance to protect their property. If you do not obtain the minimum collision insurance requested by your lender or lessor, they will purchase the car insurance policy for you and roll the cost into your loan or lease.
This is known as "force-placed" insurance, and the car insurance rates will be several times higher than the cost if you had purchased the insurance coverage yourself.
Collision insurance covers damages from the following:
Collisions with other vehicles
Accidents that involve a single car rolling over
Collisions with objects such as utility poles, trees or fences
Damages that result from hitting a road obstruction, such as a pothole
Collision insurance does not provide coverage for:
Damage to your vehicle not as a result of driving, such as weather-related damage or theft.
Damage to the vehicle of another party.
Your medical bills.
Do You Need Collision Insurance if Your Car is Paid Off?
To decide if you need collision insurance when your car is paid off, first determine the value of your car. You can use online references such as Kelley Blue Book or Edmunds to get an indication of its market value.
Consider this scenario. You're driving down the road and a rabbit darts in front of your car. You instinctively swerve and run off the road into a utility pole. Your car is a total loss. Do you have enough money to replace your car?
If the answer is no, then you should purchase collision insurance for your car.
Now suppose you do have enough funds to replace your car. Ask yourself these questions:
​How much money will you save by not paying premiums for collision insurance?​ Insurance companies will base your premiums on your driving history, the value of your car, the amount of your deductible and your credit score. A poor driving record with a history of traffic violations and accidents will lead to higher premiums. You should shop around and get several auto insurance quotes for collision coverage to find out how much you can save dropping this coverage.
​How much money is at risk?​ If you had to replace your car, would the money deplete your savings account, retirement fund or emergency fund? How much stress would that cause?
​What are the chances that you will have to pay to replace your car?​ Now you have to weigh the risks of being involved in an accident and having all expenses covered by collision insurance versus the cost of paying for the coverage.
Comprehensive Auto Insurance
Comprehensive insurance provides coverage for damages not the result of an accident. This includes events such as fire, flood, theft, vandalism, wind and falling objects. State laws do not require a driver to carry comprehensive insurance. But, like collision insurance, your lender or leaseholder may require it.
The decision to take comprehensive insurance or not depends on your financial resources. If you have the funds available to replace your car in the event of a total loss, then you could consider not taking comprehensive coverage.
On the other hand, if the total loss would put you in a difficult financial position, then you should obtain comprehensive insurance. This type of coverage is relatively inexpensive compared to the premiums for collision and liability insurance, so the cost is not a major consideration.
Personal Injury Protection
Personal injury protection (PIP) covers medical expenses when you or other members of your household or passengers in your car are injured in an accident. It is often referred to as "no-fault" insurance. PIP covers such expenses as:
Medical expenses including surgery, ambulance services, hospital stays, dental care, x-rays, rehabilitation and optical treatments
Funeral expenses for burials and cremations
Lost income if you or your passengers cannot work as a result of your injuries
Child care expenses if you are unable to care for your children
Household cleaning services and lawn care
Thirteen states require drivers to carry PIP as part of no-fault insurance. The objective is to provide prompt payment to injured parties for medical expenses as a result of a car accident rather than having to go through a lengthy litigation process to determine who was at fault and whose insurance company should pay.
Uninsured/Underinsured Motorist Coverage
Although state laws require drivers to carry liability insurance, that doesn't mean they actually do. Many people drive without liability insurance, and there is a possibility that you may get into an accident with one of them.
If you do, uninsured/underinsured motorist coverage (UM/UIM) will protect you in that situation. UM/UIM applies when the accident is not your fault, and the at-fault driver doesn't have liability insurance that will pay for your injuries or property damage. Twenty-two states require UM/UIM coverage, while the other states require your car insurance company to offer you uninsured motorist coverage.
The basic car insurance you need will include, at a minimum, liability coverage and some collision and comprehensive, depending on your financial situation. You may also want to add additional coverage for roadside assistance and reimbursement for rental car charges while your car is being repaired.
You can save money by getting car insurance quotes for the type of coverage you need for your particular circumstances. You should always ask your insurer about any insurance discounts you may be eligible for. These might include having a safe driving record, passing a driver education course and installing anti-theft devices on your vehicle.
References
Writer Bio
James Woodruff has been a management consultant to more than 1,000 small businesses. As a senior management consultant and owner, he used his technical expertise to conduct an analysis of a company's operational, financial and business management issues. James has been writing business and finance related topics for work.chron, bizfluent.com, smallbusiness.chron.com and e-commerce websites since 2007. He graduated from Georgia Tech with a Bachelor of Mechanical Engineering and received an MBA from Columbia University.