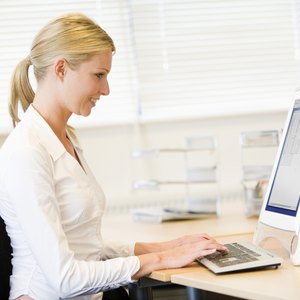 •••
BananaStock/BananaStock/Getty Images
Quicken provides numerous options not only for recording personal financial information, but for viewing and analyzing it as well. You can choose to view information from standard report templates or customize a report to suit individual needs. When viewing transaction and investment reports, a popular customization option is to include subtotals that allow for viewing information within defined parameters, such as a time period, category or account.
Access Reports
Subtotal customization options are only available in transaction and investment reports. Keep in mind that the available subtotal options you see will depend on the report you are customizing. For example, in a banking transaction report, subtotal options include time period, category, tag, payee, account and tax schedule. An investment performance report will display time period, account, security, security type, investing goal and asset class subtotal options.
To open a Quicken report, click "Reports" from the Quicken main menu, then click "Report & Graph Center" to open the main report window. If you already know which report you want to customize, select it from the drop-down menu.
Access customization options depending on how you access the report. If you opened the Report & Graph Center, first click on the category for the report, such as Banking, click the name of the report to view, and click "Customize." If you opened the transaction or investment report from the main menu drop-down window, click "Customize" at the top right of the screen to access customization options.
Customize Report
If the Customize window did not open to the "Display" tab, click on the "Display" tab to navigate to that location. In the Report Layout section, locate subtotaling options. The default for Quicken subtotals is "Do Not Subtotal." Click the drop-down box and select your parameters, then in the Show section, decide on and select options for rounding numbers and displaying dollars and cents.
Finish and view the report by clicking "Show Report." If you want to save the report, click "Save Report" at the top of your screen, give the report a name and optional description, and select a location for saving.
References
"Quicken 2009: The Missing Manual;" Bonnie Biafore; 2008
Writer Bio
Based in Green Bay, Wisc., Jackie Lohrey has been writing professionally since 2009. In addition to writing web content and training manuals for small business clients and nonprofit organizations, including ERA Realtors and the Bay Area Humane Society, Lohrey also works as a finance data analyst for a global business outsourcing company.