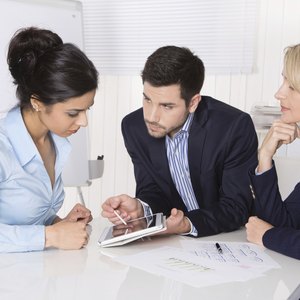 •••
Frizzantine/iStock/Getty Images
Companies that do business with their own subsidiaries may face some tough tax questions. A corporation that buys equipment from a foreign branch, for instance, charges a transfer price on the sale. The dollar amount has a big effect on how the different branches divide up taxable income and, therefore, taxes. Because of the accounting complexities, there's no absolute rule for setting a minimum price.
The Arm's-Length Rule
The Internal Revenue Service doesn't set a minimum or maximum transfer price. What it uses, instead, is the "arm's-length" rule: If the price is one that two unconnected businesses would agree to, it's acceptable. The IRS offers businesses multiple ways to measure this. A business buying from its subsidiary can show, for example, that the price was comparable to an arm's-length transaction. If it resells the items, the standard for comparison is the resale price. A company may use whichever method gets it the most desirable transfer price.
References
Writer Bio
A graduate of Oberlin College, Fraser Sherman began writing in 1981. Since then he's researched and written newspaper and magazine stories on city government, court cases, business, real estate and finance, the uses of new technologies and film history. Sherman has worked for more than a decade as a newspaper reporter, and his magazine articles have been published in "Newsweek," "Air & Space," "Backpacker" and "Boys' Life." Sherman is also the author of three film reference books, with a fourth currently under way.