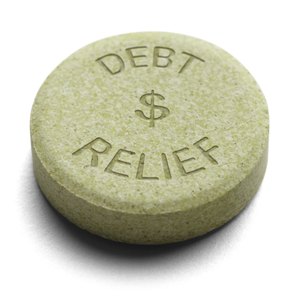 •••
Mega_Pixel/iStock/Getty Images
Debt reconciliation, also known as debt elimination, is a way for consumers to eliminate excessive debt by refinancing credit card and other unsecured debt into one manageable account. As one way to remove your debt and move on to the next phase of your financial life, debt reconciliation can work in your favor as long as you have a plan, know the risks and adhere to the rules once you have chosen this path toward debt removal.
Find a Reputable Debt Consolidation Firm
Avoid moving from one bad situation to another and find a legitimate debt reconciliation company before you start your refinancing process. American Consumer Credit Counseling recommends that you call several agencies and ask them questions as if you are conducting an interview, since you are entrusting them with your financial well-being.
Calculate Your Debts
Before you meet with your chosen debt reconciliation counselor, make sure you have accounted for all of your unsecured debts. There is little value of starting the refinancing process only to then then discovering a debt that you missed, since the point is to have all of your debts in one central location.
Pros and Cons
Ultimately, debt reconciliation is a good way for you to eliminate your debt, but it does come with some downsides. When you first refinance, you might experience a temporary dip in your credit rating. However, once you begin making your payments on time, your credit score should begin to recover as you work toward financial freedom.
References
Writer Bio
Melissa Cooper writes on topics including education, fitness and business, using her Bahelor of Arts in English at Ohio State University. An effective researcher in her expert subjects, Cooper has produced a newsletter and an internal office website that focused on fitness and well-being.