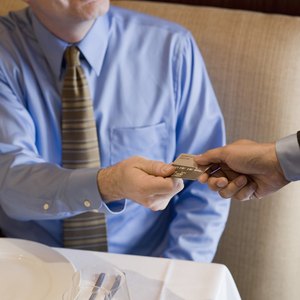 •••
Siri Stafford/Digital Vision/Getty Images
The Federal Trade Commission reports that identity theft is the number one complaint the agency receives from consumers. Not every debt is a legitimate one that the consumer owes, so credit reporting agencies establish specific policies for verifying debts. Consumers can dispute debts that aren't theirs, though the process can take weeks or months. If you get into a legal fight with a credit card company over the validity of a debt, the company might rely on contracts or other written communications to verify the debt.
Initial Credit Reporting Verification
To report a debt to any of the credit reporting bureaus, a credit card company needs to have an account with the credit reporting bureau. Depending upon the nature of the debt and the credit bureau's policies, the credit card company might have to provide some basic information about the debt, and always has to provide the amount. There's no requirement that a credit card company show proof such as a contract to the credit reporting agencies.
Disputing Debts to Credit Agencies
If there's an erroneous item in your credit report, you can file a dispute with the credit bureaus. The creditor will have a chance to respond to your dispute, and the credit bureau may require additional verification -- such as a contract -- from the creditor. You can also supply documentation, such as a police report indicating that your credit card was stolen.
Identity Theft Alerts
You can place an identity theft alert on your credit file, freezing your credit and preventing a thief from opening new accounts. This won't prevent items from going on your credit report, but it does require that a credit card company seek additional verification from you prior to giving you credit. An identity theft alert can also serve as evidence that your identity was stolen if you get into a dispute over a debt with a card company or collection agency.
Disputes With Credit Card Companies
If a credit card company attempts to collect a debt that isn't yours, you are legally entitled to request verification under the federal Fair Debt Collection Practices Act. Typically, this verification will be a contract you signed with the credit card company, but if you dispute a specific purpose, the company might have to use other tactics -- such as getting security videos from a store -- to verify your debt. If a credit card company can't verify your debt, then the law prohibits reporting to the credit bureaus, and you'll likely win if you're ever sued for the debt.
References
Writer Bio
Van Thompson is an attorney and writer. A former martial arts instructor, he holds bachelor's degrees in music and computer science from Westchester University, and a juris doctor from Georgia State University. He is the recipient of numerous writing awards, including a 2009 CALI Legal Writing Award.