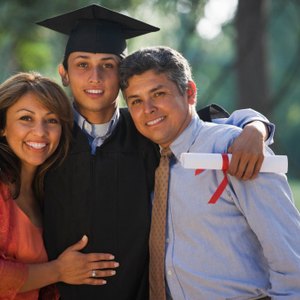 •••
Jupiterimages/Comstock/Getty Images
When a tragic death occurs, friends and family need time to come to grips with the loss. Moving forward and getting on with life -- despite the void the departed left behind — is often difficult, but creating a memorial scholarship to honor him can go a long way to healing some of the grief. You will face specific legal requirements in setting up your scholarship, but once you do, your legacy of caring will benefit many over time.
Form a charitable foundation that will bring all aspects of your memorial scholarship effort under one nonprofit umbrella. Complete legal documents to establish a 501(c)(3) tax-exempt organization with the Internal Revenue Service (IRS). Define the foundation's focus, goals, objectives and mission statement. Give your memorial scholarship a name and set an annual award date.
Appoint a board of trustees to help you jump-start the scholarship project. Choose people with a vested interest in awarding scholarships to high school students. Work in unison to define the criteria students must meet to apply for your scholarship, whether scholastic achievement, financial need or outstanding public service. Alternately, if the person for whom the scholarship is named was an outstanding sports figure, you may wish to honor a student who excels in this field.
Establish your mode for generating scholarship money. Some foundations are self-endowed. If you plan to fund it on your own, you will need a large revenue source and legal advice on how to funnel personal funds into the foundation. Perhaps you plan to donate seed money and then set up fund-raising strategies and programs to feed the fund. Whichever road you choose, or a hybrid, keep all matters related to the scholarship fund aboveboard and beyond reproach to avoid future tax and legal problems.
Design the memorial scholarship application form. Include a stringent list of guidelines that can include a personal statement, financial verification form, grade transcript and letters of recommendation. Reiterate the objective of the scholarship on the application form and include the submission deadline. Importantly, place a "verification of consent" at the bottom of the form. This gives you permission to check everything on applications for accuracy. Also at the bottom, provide signature lines for the student and his legal guardians.
Make multiple copies of submitted applications and distribute these packages to trustees or a preappointed scholarship evaluation committee. Apply memorial scholarship criteria (Step 2) to each submission. Consider employing a point system to help evaluate applicants. If, for example, a student's GPA is 4.0, she receives four points toward qualifying. Once the review is complete and a winner named, make certain everyone agrees. Notify the winner. Plan a get-together to hand over the scholarship check so everyone can witness this moment after so arduous a selection journey.
References
Writer Bio
Based in Chicago, Gail Cohen has been a professional writer for more than 30 years. She has authored and co-authored 14 books and penned hundreds of articles in consumer and trade publications, including the Illinois-based "Daily Herald" newspaper. Her newest book, "The Christmas Quilt," was published in December 2011.