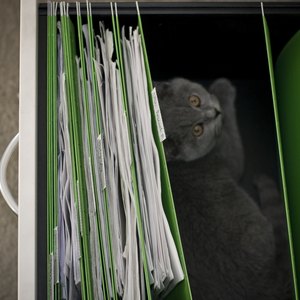 •••
kimeveruss/iStock/GettyImages
Working from home can be a dream come true, but the fact is that you're still working. You have to be just as productive as you were in the office, and this means being able to find your desk and a specific piece of paper. The same is true if your home office is dedicated solely to running your household and maintaining your home files. Workspace paper clutter can, and often does, derail productivity in either case.
Creating an organization system that allows you to tuck things out of sight while still keeping them accessible isn't a one-and-done deal. You'll have to continue moving things to their allocated places going forward. Set a little time aside each day, or even once a week, to maintain a flow.
To Scan, to Save or to Shred?
You can hire a professional organizer, ask a family member for help or DIY, but your first step is to gather all those papers into one big pile. Don't stop at your desk. You might have a pile or two on the floor or on top of the printer as well. Gather it all with the goal of decluttering. It all wants a home.
The next step involves some decision-making. Divide that big pile into the top-level categories that make the most sense to you and best serve the purpose of your office. Some common choices are "scan," "save," "shred" and "current."
Only you know what important paperwork goes where, but you might want to reserve the "save" pile for important documents or household paperwork that you need a physical copy of fairly often. The "shred" pile is for things like your notes on a project that you worked on months ago. Dating each piece in that big starting pile can be helpful. Odds are that if you haven't looked at something for six months or so, you're not going to have to look at it again. It's time to declutter and get it off your desk. You can also use a file box with runners for hanging files - or bring a file cabinet with hanging file folders into your workspace.
You can further break down your "save" pile from here, maybe by client, by project or by some other means for paperwork that pertains to your household, such as one pile for each of your kids or one medical records and another for important papers.
That Stuff You're Still Working On
Your most important pile is probably "current" paperwork, but this doesn't mean that you should allow it to keep cluttering your desktop. You have a number of options here. Consider a series of interlocking trays on one corner of your desk, one above the other. Vertical is the keyword here. Go up, not out. And, of course, there are always your desk drawers. You can set up a filing system within a deep one for that paperwork you frequently have to reach for.
And don't overlook the filing options that your walls provide. Think clipboards that can hang on a nail, magnetic wallboards, cork boards and shelving. Use different colors, too, to create an organized filing system with all that current paperwork is still reachable…but so is your desktop.
Consider the Cloud
All this organization presumes that you're stuck on doing things the hard way, with actual paper copies of the stuff you're working on. But that's really an obsolete concept that demands a lot of real estate. You won't need trays, clipboards or corkboards for items that you can store on your computer. Or you can move your entire home-filing system to the cloud so it's digitally saved for you. Invest in a scanner app so you can take pictures of hard copies. Then just scan, click, store and then review.
Make major inroads on your paper organization by stopping some incoming paperwork in its tracks. Sign up to receive invoices by email. Arrange for correspondence to be delivered to you that way as well. Then you can file everything in an appropriate folder on your computer so it will always be as close as your mouse.
You don't have to dedicate yourself to a paperless world completely. You always have the option of printing out and/or saving hard copies of paperwork as well. You can tuck it away distantly in a filing cabinet in a closet so you still have a copy in case of emergency, but it's nicely removed from your daily routine.
What You'll Need to Accomplish All This
This is all probably going to require at least a little shopping, but it doesn't have to break the bank. At a minimum, you'll likely need:
A filing cabinet
A filing rack and hanging filing folders for a desk drawer
A shredder
A scanner or scanning phone app
File folders
A label maker
This list doesn't include optional niceties like that magnetic wall hanging or shelving. And keep in mind that the electronics can get a bit pricey, depending on your needs, but they'll likely be worth the cost. You might also want to invest in a separate hard drive to back up your electronic files.
When it comes to the filing cabinet though, you can scout out secondhand and thrift stores to find a reasonably priced one. It doesn't matter if it's less than attractive because you're probably not going to be looking at it. Ideally, you'll tuck it away somewhere. And there's nothing to prevent you from painting it in uplifting, cheerful colors if it ​must​ stay in your office. Of course, you always have the option of using filing boxes instead. They'll take up less space.
In either case, don't forget to dedicate a drawer or box to office supplies. They should be fairly accessible, but you don't want them cramming your desktop, either.
Don't Neglect the Personal Stuff
Most of these organizational ideas assume that you're making a living from home, but maybe you're just looking to tidy up an area that you use to deal with the personal necessities of life like paying bills, planning your estate and filing tax returns. All this generates a lot of paperwork as well, and your piles of paper might include both work-from-home necessities and your kids' report cards.
Many personal documents mandate being kept in paper form. Think things like birth certificates, Social Security cards and passports. You don't have to share your home office with these things, but by the same token, you'll want them all in one accessible place in case of an emergency. Birth certificates, report cards and even immunization records can go into an accordion file with a separate section for each of your kids. You can also have sections for different categories such as your pets, auto records and insurance contracts.
And nothing says that your storage solution for personal documents has to be on the premises. You can rent a safe deposit box at your bank for really important items. If you do keep them at home, make sure these files are in a fireproof safe or box.
You're Not Done Yet
Make it a point to close out the week by moving everything on your desk to its appointed location. Sort through paper mail when it arrives and toss the junk mail immediately. Consider contacting the Data and Marketing Association (formerly the Direct Marketing Association) to have your name removed from the mailing lists of its member companies. Paper – particularly unwanted paper – is an office's worst enemy, and it's not healthy for the environment either. So don't forget a separate bin for unwanted incoming mail that you want to recycle.
References
Writer Bio
Beverly Bird has been writing professionally for over 30 years. She is also a paralegal, specializing in areas of personal finance, bankruptcy and estate law. She writes as the tax expert for The Balance.