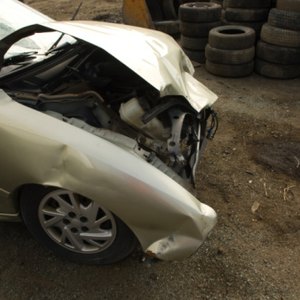 •••
Jupiterimages/Photos.com/Getty Images
Car accidents happen suddenly. One minute you're driving, and the next, you've run into another car, or an object off the side of the road. Even a small accident, like backing over something in a parking lot, can cost you thousands of dollars in repairs. If you have a comprehensive and collision insurance plan, those repairs will only cost you a small deductible. If you don't, you'll have to pay out of pocket.
Coverage
A basic liability plan will cover the damages you cause to another vehicle or personal property in an accident. A comprehensive insurance plan will cover damages to your car after weather-related incidents, vandalism or theft. A collision insurance plan will cover damages to your car related to an accident. For example, if you hit another vehicle, your collision insurance plan will pay to repair or replace your vehicle. Your collision insurance plan will also pay for damages if you hit an object, such as running into a pole.
Fees
You must pay a monthly premium to keep your auto insurance. Your premium amount will vary by insurance provider, the type of car your drive, your driving record, credit history and the type of policy you have. When you file a claim against your insurance, you will need to pay a deductible. For example, if you back your car into a pole at the gas station and cause damages, the insurance company will require that you pay your deductible before it will pay to repair the damage. You have the option of selecting a higher or lower deductible when you sign up for your insurance policy.
Receiving Payment
Once you file a claim, the insurance provider will send an adjuster to look at your car. The adjuster will inspect the damages and give you a total sum for the cost of repair. The adjuster may also decide that the cost of repairing the damages exceeds the current value of your car. In that instance, he will list the car as a total loss and the insurance company will pay you for the current value. Some insurance providers work with licensed mechanics. In this case, you can take your car to a recommended auto body repair shop. The mechanic will inspect your car, provide the insurance provider with an estimate and do the repair work.
Tips
File your claim as quickly as you can after an accident. Some insurance providers may put a cap on how long you can wait to file a claim. Waiting to file may result in the insurance company denying your claim. Submitting multiple claims may cause the insurance provider to raise your monthly premium rate or drop you as a customer. Take care when filing claims, and ensure you only submit a new claim when the cost of damages outweighs the cost of paying your deductible and the possible risk of getting an increased premium rate.
References
Writer Bio
Amelia Jenkins has more than eight years of professional writing experience, covering financial, environmental and travel topics. Her work has appeared on MSN and various other websites and her articles have topped the best-of list for sites like Bankrate and Kipplinger. Jenkins studied English at Tarrant County College.