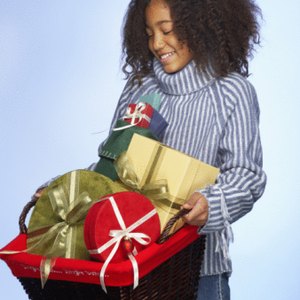 •••
Jupiterimages/Photos.com/Getty Images
If you are looking for an inexpensive gift to give someone during the holidays, consider a gift basket. With a gift basket, you can put lots of inexpensive items together to create a themed gift that won't break the bank. Create a gift basket that is derived from one of the person's hobbies or her personality. You could also choose a gift basket that is holiday-themed.
Movie Night
Create a gift basket that lets the recipient have a fun movie night with friends or her spouse. Choose a couple DVDs for the basket. Go with something you know she loves, such as thrillers or chick flicks. Along with the movies, insert other items in the gift basket, such as packages of popcorn, potato chips, candy and other snacks to be enjoyed during the movie. If you want to spend a bit more, include a throw blanket so that she can snuggle up on the couch during the movie.
Gardening
For an avid gardener, choose a gardening gift basket. This is an easy basket to put together after a quick trip to a local home and garden center. Include packets of different types of seeds for vegetables, herbs and flowers. Place a nozzle for a hose in the basket that he can use to water his plants. Gardening gloves, a trowel and a spade are other inexpensive items you could include in the basket. To complete this gardening gift basket, place a couple of gardening magazines or a book about gardening in the basket.
Pampering
Choose a gift basket that helps her pamper herself. You can create this gift basket using items you can find at most discount stores, or even a dollar store. Choose bubble bath, hand cream, body cream, exfoliating body scrub and aromatic scented candles. Give her a manicure set as well, with nail polish, nail polish removers, toe separators and cotton balls. Include a cooling eye mask so that she can relax in the bubble bath after a long day.
Holiday Cookies
If you want your holiday gift basket to reflect the season, consider a holiday cookies gift basket. You could create this gift basket in a couple of different ways. For example, if the person you are creating it for likes to bake, give him the things he will need to make holiday cookies. For example, include cookie cutters, a rolling pin, sprinkles, frosting and the other dry ingredients for making cookies. Then, place a couple of recipes written on heavy card stock in the gift basket. Maybe the recipient won't want to get in the kitchen to bake his own cookies. In that case, choose a selection of holiday cookies from your local bakery. Place them in the gift basket, along with a few cute holiday coffee mugs or dessert plates.