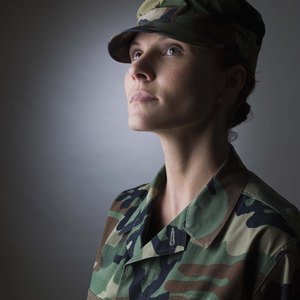 •••
Jupiterimages/Comstock/Getty Images
Bankruptcy is a difficult financial reality for many people, including America's veterans. Luckily, in some cases special provisions are in place for veterans to help them get loans, so long as they meet certain conditions. Exceptions for U.S. veterans who have filed bankruptcy are governed by article 522(b)(2) of the Bankruptcy Code.
Benefit Exemption
One way the veteran is helped in the event of a bankruptcy through the Bankruptcy Code is in the preservation of his veteran's benefit in the event that he filed for bankruptcy. What this means is that when bankruptcy is filed by a veteran, the money that he receives as part of his veteran's pay is actually exempt from becoming a portion of his estate in the bankruptcy. Veterans should be aware, however, of the fact that some states can choose to opt out of these exemptions.
VA Loans
Veterans who file for bankruptcy may not necessarily find themselves having to wait that long to obtain a VA loan to buy a home. In most cases, veterans whose bankruptcy took place within the previous three year will typically not qualify for a VA loan. However, if the bankruptcy occurs within a three-to-five year time frame, the veteran's chances improve significantly. After five years, any restrictions against getting a loan disappear.
Property Exemptions
In some cases, veterans qualify for property exemptions when they file for bankruptcy. Attorney Andres Montejo notes that the homestead of the veteran cannot be liquidated during bankruptcy. The veteran also qualifies for a personal property exemption of up to $30,000 if filing as an individual, whereas veterans' families that file can qualify for an exemption of up to $60,000. These exemptions apply to veterans whose bankruptcy occurred primarily due to active military duty.
Other Exemptions
Veterans are also helped through the bankruptcy process by a couple of other exemptions that the Bankruptcy Code allows. First, the requirement for credit counseling that most debtors now have to meet does not necessarily apply to the veteran if he can be shown to be mentally or physically incapacitated to the extent that he is unable to benefit from the requirement. Some veterans can also qualify to be exempted from the traditional "means testing" requirement if they, too, can prove that they meet the required status of a disabled veteran. The debts must have been incurred primarily during active duty or homeland defense.
References
Writer Bio
Jared Lewis is a professor of history, philosophy and the humanities. He has taught various courses in these fields since 2001. A former licensed financial adviser, he now works as a writer and has published numerous articles on education and business. He holds a bachelor's degree in history, a master's degree in theology and has completed doctoral work in American history.