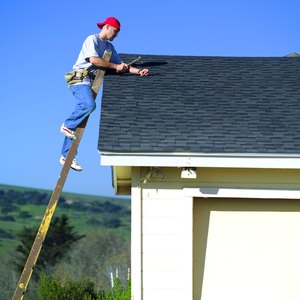 •••
Brand X Pictures/Brand X Pictures/Getty Images
Federal Housing Administration loans offer moderate-income borrowers the chance to receive state-sponsored assistance. Most states, including Colorado, offer loan programs through participating lenders, which are intended to help cash-strapped borrowers. The FHA makes home loans more affordable by insuring approved lenders against losses when homeowners default. Certain Colorado Housing and Finance Authority (CHFA) programs work in conjunction with FHA-backed loans. CHFA borrowers must meet the stricter of the FHA or the lender's credit score requirements.
FHA Rules
The FHA's credit-score rules are flexible compared to conventional lending requirements. Borrowers can get a loan with maximum financing -- 96.5 percent of the property value or 3.5 percent down -- with a credit score of at least 580. Borrowers with credit between 500 and 579 need 10 percent equity in a refinance or 10 percent down payment on a purchase. The FHA changes credit-score guidelines from time to time, depending on agency and housing industry needs.
CHFA Rules
The CHFA has no minimum credit score requirement of its own. Borrowers using a CHFA program in conjunction with an FHA-insured loan are subject to the FHA's minimum credit score guidelines. A CHFA-approved lender can notify you of the particular credit score requirements you must meet to use an FHA and CHFA program together. In many cases, the lender has its own credit score requirements which it imposes on top of the FHA's, known as overlays. For example, a common lender overlay increases the minimum credit score for a 3.5 percent down payment to 620 instead of 580.
FHA Streamline Refinance
The CHFA offers an FHA Streamline Refinance loan and a 203(k) Streamline Refinance loan. The regular streamline refinance loan does not require a credit check or appraisal in many cases. This flexibility allows current FHA borrowers who owe more on their home than it is worth to refinance to get a better payment; however, some lenders may impose a minimum credit-score requirement. A type of house rehabilitation loan insured by the FHA, the 203(k) streamline allows homeowners with an existing FHA loan to refinance into a new FHA loan that provides an additional $5,000 to $35,000 for nonstructural repairs. The 203(k) streamline carries more stringent qualifying guidelines than the regular streamline refinance.
Considerations
Credit performance other than your score help FHA and CHFA lenders determine whether you qualify. For example, borrowers must meet the lender's requirements for minimum credit references, or trade lines, and length of credit history. Borrowers with minimal or no credit history may use nontraditional forms of credit at the lender's discretion. In general, this involves a record of on-time housing, utility bill payments and verifiable installment payments, which the lender confirms through cancelled checks or a credit agency's verification process. Also, the CHFA requires you to undergo a home buyer education class, which you can complete in-person, online, over the phone or a combination of these.
References
Resources
Writer Bio
Karina C. Hernandez is a real estate agent in San Diego. She has covered housing and personal finance topics for multiple internet channels over the past 10 years. Karina has a B.A. in English from UCLA and has written for eHow, sfGate, the nest, Quicken, TurboTax, RE/Max, Zacks and Opposing Views.