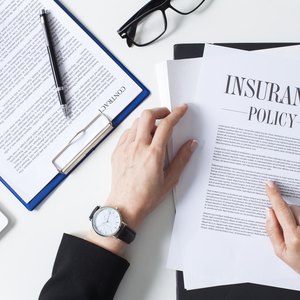 •••
eternalcreative/iStock/GettyImages
Carrying auto liability insurance is required in just about every state, and these states also have laws in place requiring that you must purchase a certain amount of liability coverage. You generally can't comply by insuring yourself for just $5,000. New Hampshire and Virginia are the only exceptions, and even they impose other requirements. Since required coverage amounts can vary by state, it's best to verify your state's minimum amount of coverage.
Liability-only car insurance isn't considered to be "full" coverage. It's just one component of an insurance policy. Other types of coverage aren't required by law, but they'll most likely be required by your lender if you finance your car. You can carry just liability coverage otherwise, but there are both risks and rewards in doing so.
Liability Coverage in Car Insurance
"Liability" means that you're responsible for paying costs and damages resulting from an auto accident that you caused. States want to make sure that the other driver can repair or replace their car if you cause damage to it without having to come out of their own pocket or put a claim in to their insurance company. After all, the accident wasn't their fault.
The same goes for medical bills for injuries the other driver or their passengers might have sustained. Liability insurance also covers you if you drive off the roadway and into someone's living room – you caused damage to property other than another vehicle – or if an injured party sues you for lost wages due to their injury, or for pain and suffering. Your legal fees and court costs are usually covered in this case as well.
Liability car insurance is a package deal. It includes two types of coverage with liability limits, one for property damage and the other for bodily injury. Most states require that you carry both, and that can be a good thing because you'd have to personally pay the other driver's costs if you don't have these coverages. You might also be required to carry personal injury protection to cover the cost of your own injuries if you live in a no-fault state. Otherwise, you'd have to pay your own medical costs.
When You Have Liability-Only Coverage
You won't have comprehensive coverage or collision coverage if you opt for a liability-only policy, so you're at risk of coming up with the money to pay for any damages to your own vehicle. Collision coverage has your back if your own car is damaged or destroyed because you're involved in an auto accident. Comprehensive coverage takes over if your car is damaged or totaled by something out of your control, such as because a tree fell on it during a nasty storm or if it's stolen.
Carrying all three types of car insurance coverage is commonly referred to as having full coverage, and this is usually required by lenders when you finance your vehicle. Liability-only coverage wouldn't be an option in this case because your car acts as collateral for the loan. Your lender can repossess it if you default on your car payments, so they'll obviously want some assurance that the car is in good condition for resale purposes. They'll want to know that your insurance company will pay to repair it if need be.
Coverage Limits for Liability Insurance
Coverage limits are the most your insurer will pay if you're involved in an accident that causes bodily injury, property damage or both. You must carry at least this much liability insurance by law, and you'll have to personally pay the difference if damages are more. You can buy additional insurance over these amounts if you want to protect yourself further, but this will increase your premiums.
There are typically three minimum coverage requirements to a policy: one for property damage liability, one for bodily injury liability per person and one for bodily injury liability for multiple individuals per accident.
Your liability coverage will be designated by three numbers, something like this: 75/150/50. You would have $75,000 in injury protection for each person in this case, $150,000 in injury protection for each accident and $50,000 in property protection. Many states require at least ​$50,000​ in bodily injury coverage and ​$25,000​ for property damage.
States Laws for Liability Coverage
You can avoid carrying liability coverage in New Hampshire and Virginia, but these states have other rules in place. New Hampshire imposes "personal responsibility requirements." You must prove to the state that you can access the money necessary to pay for any damages you might cause to another.
Virginia requires another type of coverage instead: uninsured motorist insurance. This type of coverage will pay for your damages if you should be hit or hurt by a driver who's opted not to carry liability insurance.
You could potentially be charged with a crime in the other 48 states if you don't carry at least the minimum liability coverage. This means fines and even jail time in some cases, and your driver's license might be suspended as well.
Advantages of Liability-Only Insurance
A liability-only car insurance policy that meets minimum minimum limits for coverage is certainly the least expensive option to insure your car. You're only paying for one type of coverage. Autoinsurance.org indicates that the average annual liability insurance rate was ​$516.39 in 2020​. Carrying full coverage would set you back ​$954.99​. That's a difference of ​more than $36​ a month, and that can be significant if you're on a tight budget.
Assuming that you own your car outright – the loan against it has been paid off – it might not make financial sense to pay significantly more in premiums to purchase collision and comprehensive coverage as well. All those premiums could quickly add up to more than your car is worth if it's older. Direct Auto Insurance suggests multiplying the monthly premiums for comprehensive and collision coverage by 12. You might be a good candidate for liability-only coverage if the result is more than 10 percent of what your car is reasonably worth.
Disadvantages of Liability-Only Insurance
Of course, the biggest disadvantage to this insurance option is what it won't pay for if you're involved in a serious accident. You'll be on your own when it comes to figuring out how you'll afford to cover damages or replace your vehicle. Ask yourself how you'll get to work each day if you can't come up with the money so you no longer have a car. Compare those extra collision and comprehensive premiums to how much a rideshare service or regular taxi fares would cost you to get around on a regular basis so you don't add loss of income to the consequenses. You'll want to go with whichever option costs less unless you have alternate transportation options, such as if a retired family member can regularly let you use their car.
Your medical bills will be your own responsibility if you don't carry at least medical payment coverage, too. This coverage for medical expenses takes the "only" out of liability-only coverage, but it might be something worth discussing with your insurance agent.
In the end, it can come down to the age and value of your car, whether you have a loan against it and how much you can stand to lose financially in a worst-case scenario.