How to Buy a Rental Duplex
by Monica Dillon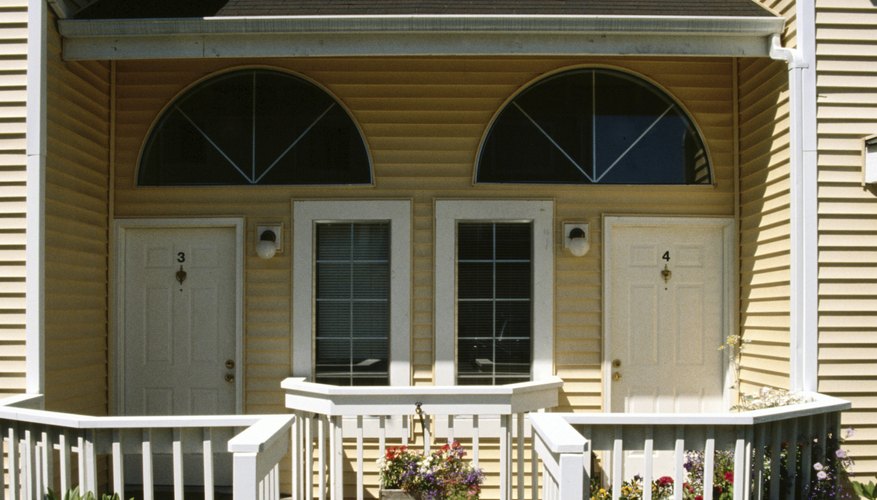 Buying a home takes quite a bit of effort. Buying a duplex takes just as much research and perspiration, if not more. Depending on your financial goals, a duplex can provide a tax shelter, a residual income stream and a place to call home. Balancing home ownership and being a landlord takes effort and a willingness to learn, but with a little knowledge and budget forecasting, you can buy and manage a profitable duplex.
Instructions
Research home sales for duplexes in the area. Research the rental market and learn about current rental rates. Get an idea of what the average rental units cost and the amenities typically included such as utilities and cable.
Get pre-approved as you would if you were purchasing a single family home. This will make it easier to find a good real estate agent to represent you and present you as serious buyer in the eyes of sellers.
Identify where your down payment will come from based on your pre-approved mortgage amount. If you're a first-time home buyer and plan to live in one of the units, you may qualify for a low a low down payment through the FHA or VA.
Find a real estate agent who specializes in multi-family properties and represents buyers. Look for an agent who works in the business full-time and will respond to your questions in a reasonable period of time. Find three to five real estate professionals via the Web, newspaper listings and recommendations from friends and family. Ultimately, you want a real estate agent who will represent you and not the seller. Interview each one and ask for references. Ask them about recent closings and what some of the most common challenges are for the buyers they represent.
Create your buying criteria based on your pre-approved amount, location, number of bedrooms, bathrooms, age and square footage. This will save time and help the real estate agent pick out a few duplexes if several are in the MLS inventory.
Look at the properties you and your real estate agent select. For each property, pay attention to the age, condition and surrounding neighborhood. Look for signs of deferred maintenance such as an old roof, peeling exterior paint and older appliances. These are areas where you may have increased maintenance costs, but also opportunities to negotiate a lower sales price. Review the operating costs and monthly cash flow for each duplex you visit. This information may be readily available with the property listing. Review any special details or notes mentioned on accompanying disclosure statements.
Narrow your selection to two or three properties to pay a second visit. Do your due diligence before making an offer by inspecting each property carefully and reviewing accompanying property information. Research insurance costs for each property if you live in a high risk flood or earthquake area where insurance rates tend to be higher and less competitive. Contact an insurance agent to get estimates or ask your real estate agent to get this information from the seller if it's not included in the property listing information.
Spend time before making an offer performing your own cost analysis for each property. Based on the information you've learned about each property, create a hypothetical budget to estimate your monthly cash flow and potential profit for each property.
Contact your agent to make an offer on the property you believe fits your criteria and has the potential to return a positive cash flow or return. Your agent will sit down with you to come up with an attractive offer he feels will satisfy the seller. If you have any room for leverage or contingencies to add to the offer, this a good time to do so.
Schedule a home inspection once the seller accepts your offer. You may get recommendations and do research to find a qualified inspector. If you're concerned about the electrical or plumbing, you can also hire an electrician and plumber, respectively, to get a detailed assessment of both systems.
Begin shopping for a mortgage to get pre-qualified. Find a lender or mortgage broker you feel comfortable with and has a good reputation for customer service. Be prepared to provide documentation supporting your income, employment, assets and consumer debts such as car payments and the like.
Wait for the lender to inform you of how much you are qualified for once your loan application and documentation is verified and analyzed. The lender will also order an appraisal for the duplex. You can be present during the appraisal and you must receive a copy before closing. Your approved mortgage amount will hinge on the appraisal report. If the appraiser values the duplex less than what you offered the seller, you may have to renegotiate since the lender will only finance an amount equal to or less than the appraised value of the duplex.
Bring to closing the amount of money specified in the HUD-1 statement your lender will send you before closing. In general, expect your closing costs to range from $3,000 to $5,000 or 2 percent to 4 percent of the purchase price.
Photo Credits
Ablestock.com/AbleStock.com/Getty Images