How to Buy Gold and Silver
by Mike Parker ; Updated July 27, 2017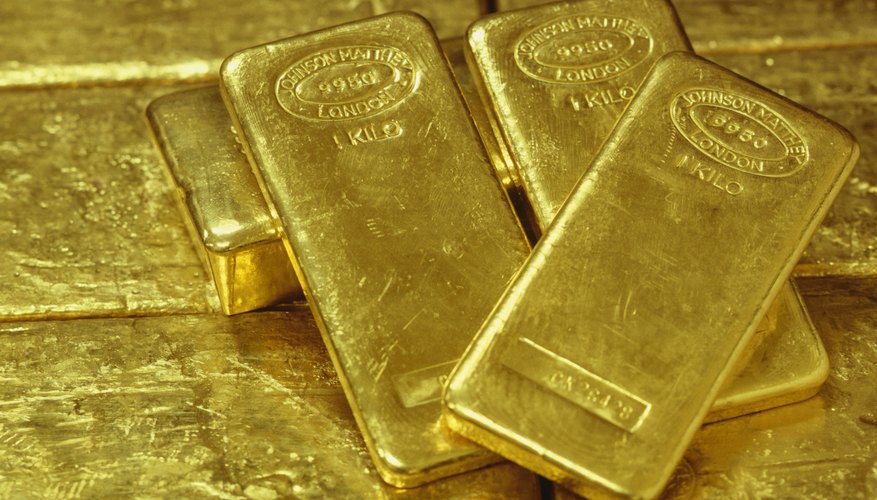 When inflation rears its ugly head and the stock market gets jittery it might be a good time to hold certain hard assets, such as gold and silver. Precious metals have traditionally served as a hedge against inflation, so having a portion of your portfolio in gold and silver makes sense. You can gain exposure to these precious metals by purchasing the physical metal, mining stocks, precious metals mutual funds or exchange traded funds.
Investment Objective
Before you invest in gold or silver, consider what role such an investment plays in your overall investment strategy and whether it suits your investment temperament. The market price of gold tends to react more strongly to trends in monetary policy and changes in inflation, while silver has more industrial uses and its price can be more ready driven by direct market demand. It's important to know why you are buying gold or silver so you'll know when, or if, your investment has achieved its purpose.
Investment Form
Determine the form you want your gold and silver investment to take. There are a number of different ways to gain exposure to gold and silver in your portfolio. Physical gold or silver gives you the purest play, but you'll have to pay for delivery and find a secure place to store it. Gold and silver typically make up a portion of the assets of precious metals mining companies, so you can gain exposure to the metals by purchasing company stock. You can gain a diversified portfolio of precious metals companies by investing in a gold and silver mutual fund or exchange traded fund.
Brokerage Account
While you can buy a limited quantity of gold and silver ingots or coins from a local coin shop, if you want to invest larger sums in precious metals you'll need an account with a firm that deals in precious metals. If you don't already have an account with such a broker, you'll need to open one. You'll be asked to provide certain personal information, such as your name, physical address, Social Security number and contact information. Depending on the brokerage firm, you might have to make a minimum deposit into your account before you can place an order.
Asset Allocation
Having a portion of your investment portfolio in precious metals, such as gold and silver, can provide some needed diversification, which might help protect you against loss if the market turns south. How much of your portfolio should be in precious metals depends on your investment objectives and temperament. The 2012 "APMEX Quick Start Guide to Investing in Precious Metals" suggests that no more than 2 to 4 percent of a medium-risk investor's total assets should be invested in gold.
Photo Credits
Paul Katz/Photodisc/Getty Images