Best Bang for Your Buck: Countries With Lots to See
by Suzanne Topham ; Updated September 12, 2017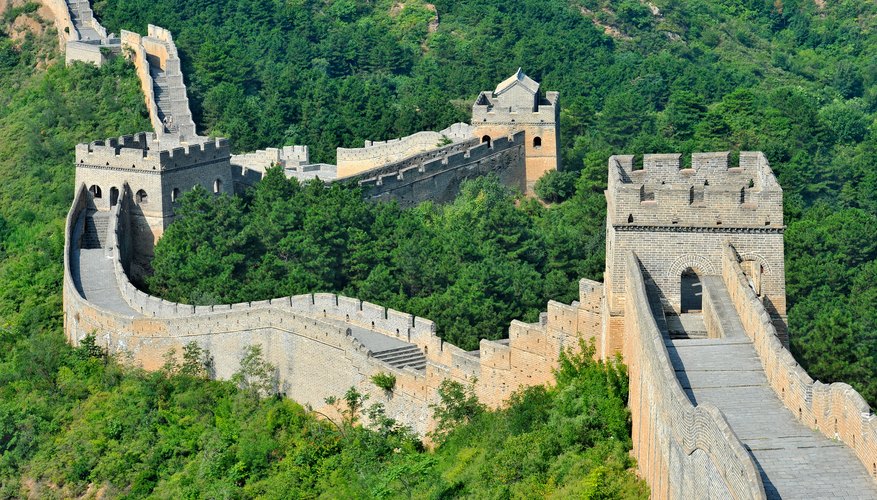 Overview
While international travel is rarely cheap, some destinations give you a lot more vacation for your money than others. Whether you have a yen for exciting urban adventures, spectacular scenery or outdoor treks that give you an adrenaline rush, finding lots to like in a single destination can give you big bang for your buck.
United Kingdom
London is expensive, but find relatively affordable lodgings (try AirBnB, and consider locales in the suburbs) and you'll have tons to do without stressing much about money. Hit up one of its 200+ museums, take in a show in the the theater district, and enjoy a brewsky in one of its world-famous pubs. Take the train for short runs to Scotland, with its moody moors and cool cities, or to the English countryside for a look at Merry Olde England in the Cotswolds, Cornwall and Kent.
France
As Ernest Hemingway famously wrote, "Paris is a moveable feast." Walking its streets, scenes of many paintings and memorable photographs, fills you with awe, and it's a very cheap thrill. The Orsay Museum and the Louvre take days to discover. No need for a fancy French meal; cafes abound where you will get affordable and unforgettable meals. The Loire Valley, Normandy, Provence and the French Riviera are all just a short jaunt from Paris.
Croatia
From Zagreb to Dubrovnik and the rugged Dalmatian Coast, Croatia gives visitors scenery, ancient architecture and history. After years behind the Communist wall and years more of civil war, Croatia has come into its own as an interesting and varied destination, with a coast to rival Italy, wilderness adventure in the interior and cities with both soul and sophistication.
Spain
Spain's recent financial woes mean travel is less expensive there, and it is one of the best all-around bargains in Western Europe for this reason. Spain offers up a banquet of treats, from Madrid's riches to Barcelona's architecture and nightlife, the wine country in Rioja, history in Toledo, beaches of San Sebastian, the mountains of northern Spain and Seville's Moorish mood. Warm sun, tasty tapas and flowing wine make Spain extremely hospitable.
Turkey
Istanbul, with its feet on both sides of the Bosporus, connects Europe and Asia. This meeting of cultures means this ancient city is exotic and bursting with fascinating architecture. Visit the grand mosques and Grand Bazaar and take a cruise on the Bosporus. Keep an eye out for what Fodor's calls the juxtaposition of the old and new to gain an understanding of modern Turkey.
Australia
Australia's sheer vastness gives travelers myriad choices. The Outback promises rugged adventure, and the Great Barrier Reef excellent snorkeling and diving. If you love beaches, Australia's got them in abundance, along with the sophistication and nightlife of one of the world's classiest cities, Sydney. On top of all this vacation wonder, they speak your language.
Argentina
Argentina is a prosperous country, and that's evident nowhere more than in the capital, Buenos Aires. The peso-to-dollar exchange makes Argentina an affordable destination, and Buenos Aires is a major draw, with its culture, history and European ambiance. Beyond Buenos Aires, the spectacular Andes dominate the west, on the Chilean border, and the Argentine gauchos still look -- and act -- like the cowboys they are.
China
China combines striking new skyscrapers with ancient customs and history, urban with rural, to make a vacation of deep contrasts. Visit the 5,500-mile long Great Wall of China and the super-modern Shanghai; Yangshuo, with the breathtaking landscape of the great Yulong and Li rivers; and Beijing, keeper of the flame of Chinese history. Whether you yearn for authentic Peking duck or chicken chow mein, you'll have a feast fit for an emperor in a rapidly changing China that still bows to tradition.
Cite this Article
Choose Citation Style
Topham, Suzanne. "Best Bang for Your Buck: Countries With Lots to See." Pocket Sense, https://pocketsense.com/best-bang-for-your-buck-countries-with-lots-to-see-12634222.html. 12 September 2017.
Topham, Suzanne. (2017, September 12). Best Bang for Your Buck: Countries With Lots to See. Pocket Sense. Retrieved from https://pocketsense.com/best-bang-for-your-buck-countries-with-lots-to-see-12634222.html
Topham, Suzanne. "Best Bang for Your Buck: Countries With Lots to See" last modified September 12, 2017. https://pocketsense.com/best-bang-for-your-buck-countries-with-lots-to-see-12634222.html
Note: Depending on which text editor you're pasting into, you might have to add the italics to the site name.