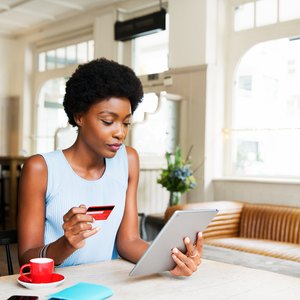 •••
Tim Robberts/Stone/GettyImages
A good checking account is the utility tool that every responsible consumer needs.
They may not earn an impressive amount in interest like a high yield savings account, but they're the best way to access your money quickly and easily. Whether you're withdrawing cash to pay the babysitter or setting up automatic bill pay with your service providers, a checking account offers freedom and ease of use.
Axos Bank offers a variety of personal checking accounts with different benefits and requirements. In this Axos Bank review, we'll go through each option to help you make the right choice.
For our ratings, we compared these accounts to similar accounts from other major banks and credit unions. We compared rates, fees, minimum opening deposits and balance requirements.
Cashback Checking
The Cashback Checking account from Axos Bank pays 1% cash back on signature-based transactions, which refers to transactions made when the debit card is run as a credit card. This includes all online transactions and any in-person transactions where the debit card is run as a credit card.
If you do a lot of shopping, this could be a great way to earn cash back without opening a credit card. There's a $2,000 limit on how much cash back you can earn per month, a much higher maximum than other cash back checking accounts.
Users have to maintain a $1,500 average daily balance to receive 1% cash back. If the average balance falls below that, customers will only earn 0.50% cash back. This figure is still higher than what other checking accounts offer.
The cash back amount will be automatically calculated and deposited to your checking account every month.
Another card benefit is unlimited ATM fee reimbursement around the country. If you use this card at an out-of-network ATM, Axos Bank will reimburse any and all fees.
The minimum amount required to open an account is $50, and there are no monthly maintenance fees. Users will receive free checks when they open an account.
Rewards Checking
The Rewards Checking account is a high-yield checking account currently paying 1.25% APY. This is one of the highest interest rates available for checking accounts. All funds up to $150,000 will earn interest.
Customers must complete all three of the following tasks to reach 1.25% APY. Each of the three requirements is worth 0.4166% APY.
Receive $1,000 or more in direct deposits every month.
Use the Axos debit card 10 or more times a month.
Use the Axos debit card 5 more times a month, or 15 times in total.
Transactions must be $3 or more to qualify. Almost all high-yield checking accounts require a certain amount of transactions or direct deposits to earn interest.
Axos Bank refunds all domestic out-of-network ATM fees for rewards checking customers. This account has no minimum balance requirement. There is a $50 requirement to open the account.
Essential Checking
The Essential Checking account is a basic checking account that does not offer any interest. There is no minimum amount required to open an account and no monthly maintenance fees.
The biggest benefit of this account is Direct Deposit Express, which allows customers who set up direct deposit to be paid up to two days early. This free feature isn't guaranteed, but it may be a helpful benefit - especially for those living paycheck-to-paycheck.
There are no overdraft or non-sufficient funds fees. Axos Bank will reimburse all domestic out-of-network ATM fees for account holders.
First Checking
The First Checking checking account is only available for teens between the ages of 13 and 17. It's a starter checking account designed to help teens get comfortable with managing their money while still earning some interest. The account pays 0.25% APY, one of the best rates available for teen checking accounts.
There's a $50 minimum requirement to open the account. An adult will have to help the teen open the account, which is standard for all child checking accounts.
There are no overdraft, non-sufficient funds or monthly maintenance fees. Teens are allowed to withdraw a maximum of $100 in cash from ATMs and $500 from point-of-sale transactions.
Golden Checking
Like its name suggests, the Golden Checking account is only available to seniors 55 and older. This account pays 0.20% APY on all balances.
While this interest rate isn't as high as other banks, there are also no balance requirements or debit card transaction requirements needed to earn interest on the account. This is a great option for seniors who want an interest-bearing checking account without having to take any extra steps.
Unlike other Axos Bank checking accounts, only $8 worth of out-of-network ATM fees will be reimbursed each month. This is enough for about two ATM transactions.
Seniors can receive a free box of checks every 6 months with this account. If they want more checks it will cost extra.
The minimum amount required to open an account is $250, and there are no monthly maintenance fees. Senior checking accounts at other banks often charge a monthly fee unless customers fulfill certain requirements.
Benefits of Axos Personal Checking Accounts
All Axos Bank checking accounts come with a free debit card and free online banking. Replacing a debit card if it's lost or stolen is also free.
Customers can utilize the Bill Pay feature to pay bills automatically every month, directly through the bank. They can also manage their debit card online.
Axos also has biometric security measures to protect your account. You can send money to friends and family members with Axos Banks' peer-to-peer portal, using just their name or phone number to complete the transaction.
Customers who refer someone to Axos Bank will earn $20 if that person signs up and opens an account. There is no limit on how many people you can refer.
Axos Bank has 91,000 Axos Bank ATM locations. These are available in grocery stores, pharmacies and gas stations.
The Axos Bank mobile app has a 3.7 out of 5 rating on the Google Play Store and a 4.7 out of 5 rating on the iPhone App Store. You can deposit checks, view your balance or transfer money with the app.
The Bottom Line
Axos Bank's personal checking accounts have some of the lowest fees and least restrictive requirements on the market, making them a solid option for anyone looking to switch banks or open a checking account for the first time. These accounts provide a great alternative to those available from traditional banks, as long as you don't need to visit a physical branch.
If you're interested in an online-only checking account, consider banking with Axos Bank. You may be able to earn more interest and pay fewer fees by switching. Compare the different checking account options to see which one makes sense for you.
References
Writer Bio
Zina Kumok is a freelance writer specializing in personal finance. A former reporter, she has covered murder trials, the Final Four and everything in between. She has been featured in Lifehacker, DailyWorth and Time. Read about how she paid off $28,000 worth of student loans in three years at Conscious Coins.