The Average Salary of a Professional Referee
by Filonia LeChat ; Updated July 27, 2017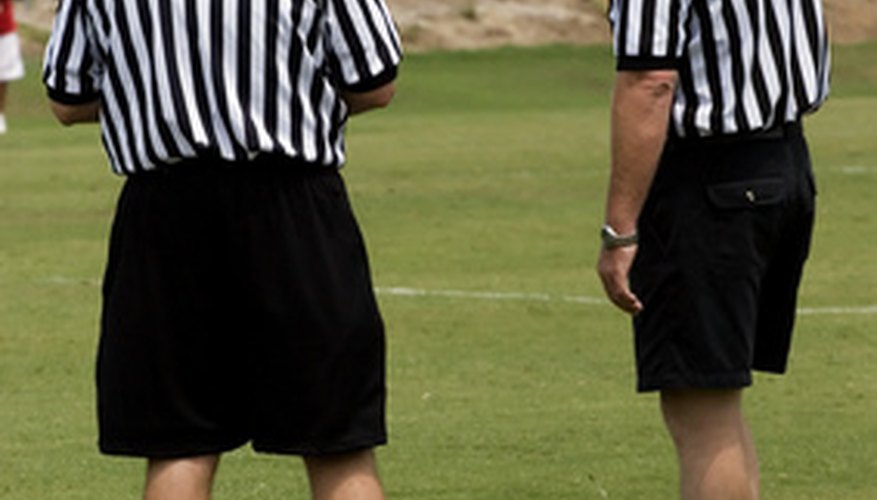 Determining which players are in, out, safe and home falls to the sometimes-padded shoulders of a professional referee. Referees, who are often the target of athletic fans' ire and disagreement with their calls, keep a game moving and ensure players play by established rules. As they work their way to the plate, net or basket, referees keep average salaries as a "goal" in mind.
Facts
Referees across the country played ball with an average national salary of approximately $28,490 in 2009, according to the U.S. Department of Labor Bureau of Labor Statistics wages study. Referees for gambling organizations earned at a higher rate, taking in approximately $31,450. Just behind the gambling industry and still over the national average, elementary and secondary schools also paid slightly higher annual mean wages at $31,370.
Location
Choosing the state to earn a referee salary could be the difference between a home run and a strike out. The Department of Labor's top paying state, New York, offered double the national wage at $56,570 to its referees. Also paying much higher was Michigan at $48,270, Pennsylvania at $44,610 and Vermont at $42,200.
Considerations
Scoring a salary as a referee may be as simple as having played the sport in college or recreationally or through a bachelor's degree in exercise science or another related field. Referees also must undergo certification before reffing professional games and have experience reffing at a lower level such as high school, college conference or minor league games.
Outlook
Seeking out a salary as a referee is considered a "good call" by the United States Department of Labor Bureau of Labor Statistics, as the organization predicts a 10 percent growth in the field with 1,700 new jobs added through the year 2018. The BLS suggests tapping high schools as the best potential for professional referee salaries.