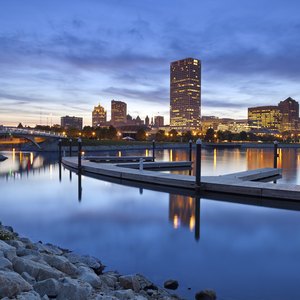 •••
RudyBalasko/iStock/Getty Images
The Department of Housing and Urban Development provides state financing for a rent subsidy program known as the Housing Choice Voucher Program, or Section 8. Wisconsin allocates HUD funds to individual cities and counties, which administer Section 8 programs in their communities. Applicants may apply for the voucher program through a HUD-approved nonprofit agency or charity, or the local public housing authority, known as a PHA.
Find A Public Housing Agency
Visit or call Wisconsion PHAs or check the state's PHA websites for Section 8 availability, wait times and application protocol, which vary by location. Individual offices have variable office hours for walk-ins and appointments, as well as hotlines for obtaining applications. HUD maintains a list of PHA websites. The final column indicates whether the PHA administers Section 8, other low-rent programs, or both. PHAs also can supply a list of property management companies that accept Section 8 vouchers in your area.
Application and Documentation
You must complete a preliminary application and provide proof of information for the PHA to review and verify. The PHA determines your eligibility based on location, gross income and household size. You must be a U.S. citizen or have eligible immigration status, according to HUD. The application requires the names, ages, family relation and Social Security numbers of your household members. You also must include wage amounts and asset information, such as your bank account balances. Applicants must certify that the application is accurate and sign it.
Supporting Documents
Provide evidence of income, assets and residence to the PHA along with the application. You must show proof of address with official documents, such as your current lease, utility bill, a renter's insurance policy, paystubs, a Social Security insurance award letter or family and child support court documents. You also must show your state ID or drivers license with your current address on it. Birth certificates and Social Security ID cards or naturalization papers are used to establish identity. Non-citizens may provide an alien registration card.
Waiting Lists and Tips
Waiting periods of more than one year are common, as the demand for housing assistance often exceeds state resources. For example, at the time of publication, the Kenosha Housing Authority website indicated a closed waiting list for Section 8 applicants. Because PHAs usually have long waiting lists, you should apply at more than one, recommends HUD. Certain circumstances may give you priority when wait-listed. These include:
Displacement due to a natural disaster
Homelessness
Veteran status
You are at least 62 years old
You have a disability
You have children
Your PHA decides whether you qualify for priority placement in the program.
References
Writer Bio
Karina C. Hernandez is a real estate agent in San Diego. She has covered housing and personal finance topics for multiple internet channels over the past 10 years. Karina has a B.A. in English from UCLA and has written for eHow, sfGate, the nest, Quicken, TurboTax, RE/Max, Zacks and Opposing Views.