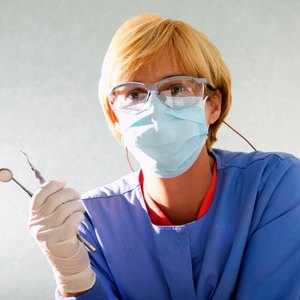 •••
Thinkstock Images/Comstock/Getty Images
Dental assistants are frequently in demand and are charged with a variety of tasks in a dentist office. Some of these include preparing patients for procedures, assisting dentists during procedures and sterilizing office equipment. Dental assistant educational programs are usually a component of two-year degrees offered by community colleges and vocational schools. The length of the programs can vary. There are scholarships available to prospective dental assistants, as well federal and state aid, grants and loans.
Evaluate a few dental assistant educational programs. Look at community colleges and certificate programs offered by dental trade schools. Identify the length of time required to complete a dental assistant degree or certificate at each school. Find out how much money the program will cost over this time and how much of the total needs to come from scholarships or other aid.
Prepare a resume and a statement of purpose to apply for dental assistant scholarships. Most donors require a resume and an essay along with a completed application. Write up a resume with previous educational and work experience, even if these are in different fields. An essay outlining your statement of purpose demonstrates how your goals and interests align with the scholarship requirements.
Consider applying for American Dental Association, or ADA, scholarships (see Resources). The ADA offers scholarships to those pursuing careers as dentists, dental assistants and hygienists. The funds can be used to pay dental school tuition, books and living costs. The ADA foundation has offered at least two scholarships specifically for dental assistants: the Minority Dental Students Scholarship and the Dental Assisting Scholarship.
Inquire about scholarships with the American Dental Assistants Association, or ADAA. Read the educational program and scholarship requirements (see Resources).
Identify other sources of financial aid. Look at dental schools that offer their own scholarships and aid and consider grants at the federal and state level. Also consider a student loan if scholarships and other financial aid doesn't cover enough of your expenses.
References
Resources
Writer Bio
This article was written by PocketSense staff. If you have any questions, please reach out to us on our contact us page.