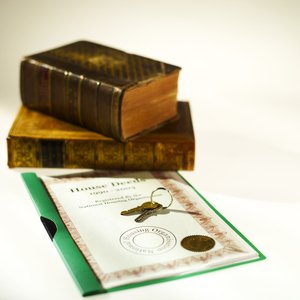 •••
Stockbyte/Stockbyte/Getty Images
When you fall behind on your mortgage payments and it seems like you'll never catch up, you may be tempted to see if you can hand the title of your house over to your lender and begin your search for more affordable housing. This is called a deed in lieu of foreclosure, and it may seem like an easy out, but it comes with some disadvantages. There will be a long list of requirements from your bank, for example, and you'll have to vacate the house pretty quickly. Consider some alternatives first.
Mortgage Modification
You might not have to give up on your house just yet. If you want to stay in your home and get back on track, find out if you qualify for a loan modification. Thousands of homeowners have received mortgage help from federal programs such as the Home Affordable Refinance Program to make their mortgages more affordable. Talk to your lender about applying for a modification. You will need to demonstrate steady income and an ability to pay your new mortgage on a regular basis. A modification can give you a lower interest rate, which makes the mortgage more affordable over time, and also reduces your monthly housing payment.
Short Sale
When you release your home in a short sale, the mortgage company allows your to sell the house for less than you owe on the home loan. You will need to work with your mortgage company to determine a reasonable price and get your house on the market as quickly as possible. Most lenders will give you a limited amount of time to close the sale. According to Making Home Affordable, a government program that administers the Home Affordable Foreclosure Alternatives program, your credit will not be hurt as much with this type of sale as it would be with a foreclosure. You can also apply for up to $3,000 in relocation assistance when you do sell your home and need to move out. If you can sell your home for less than you owe, it might be a better deal than a deed in lieu of foreclosure.
Deed for Lease
When you can't pay your mortgage but you love living in your home, or you have kids in the local school, or you need extra time to find a new place to live, a deed for lease instead of a deed in lieu of foreclosure might be a good alternative. Some lenders will take back the deed to the house when you cannot pay your mortgage, and then rent the house back to you. You will need to meet the rental requirements of your lender, and most banks will only allow you to lease the home for a year or two.
Foreclosure
When you find yourself unable to meet any of the requirements for a loan modification, short sale, leasing program, or even a deed in lieu of foreclosure option, sometimes the only alternative is to make your peace with foreclosure. You will need to find a new place to live, take a serious hit on your credit report, and spend some time getting your financial and emotional health in order, but it can be an opportunity for a clean break and a fresh start. Once you know that foreclosure is imminent and unavoidable, you can stop worrying about how to get out of the situation and start making plans for the future.
References
Writer Bio
Cari Oleskewicz is a writer and blogger who has contributed to online and print publications including "The Washington Post," "Italian Cooking and Living," "Sasee Magazine" and Pork and Gin. She is based in Tampa, Florida and holds a Bachelor of Arts in communications and journalism from Marist College.