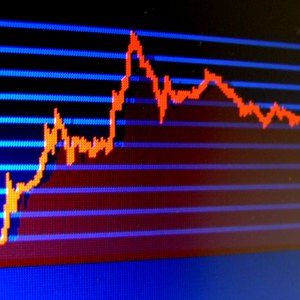 •••
stock market analysis screenshot image by .shock from Fotolia.com
American Depository Receipts, sometimes called American Depositary Receipts--or ADRs--allow the shares of foreign companies to trade on U.S. stock exchanges. ADR shares were first created in 1927 by investment firm J.P. Morgan to allow people to invest in foreign companies through their regular stock brokerage accounts. Many well-known global companies trade as ADRs on U.S. stock markets.
Function
ADR shares represent stock shares of foreign corporations that usually trade on foreign stock exchanges. Actual shares of an ADR company are held by a U.S. bank and the bank issues the ADRs, which are backed by the shares held in trust at the bank. Each ADR share may represent a single share of the foreign company, multiple shares or a fraction of a share.
Effects
Using ADR shares to represent the shares of a foreign company allows the shares to trade in the U.S. denominated in U.S. dollars instead of the currency of the foreign company's home stock market. For example, the National Bank of Greece is a Greek company and the shares trade in euros on the Athens stock exchange. The National Bank of Greece ADR trades in the United States on the New York Stock Exchange (NYSE) under the symbol NBG. Each ADR share of NBG represents one-fifth of a National Bank of Greece stock share.
Types
ADR shares can be sponsored or unsponsored by the company represented by the ADR shares. A foreign company with sponsored ADR shares has approved the sale of the ADR shares and meets U.S. financial reporting requirements.
Unsponsored ADR shares do not have the approval of the foreign company to trade as a U.S. ADR. The shares of an unsponsored ADR are purchased by a third party and are deposited with a U.S. bank. The unsponsored ADRs trade in the unregulated over-the-counter market, a securities market where participants trade shares over the phone, online or by fax instead of in person on a trading floor.
Potential
ADRs allow U.S. investors to buy stock in foreign companies without the problems of setting up a foreign stock brokerage account or exchanging money. Dividends paid by the foreign company are converted from the foreign currency to U.S. dollars and paid to the investors of an ADR. ADR shares can be purchased as long-term investments or traded short term like any U.S.-based company stock.
Examples
Many of the stocks that trade as ADRs are well-known companies with a global presence. As of October 2010, the top five most actively traded ADR listings, according to ADR.com, which is maintained by J.P. Morgan, include Nokia, stock symbol NOK, from Finland; BP PLC, stock symbol BP, from Great Britain; Vale S.A., stock symbol VALE, from Brazil; Petrobras Petroleo Brasileiro S.A., stock symbol PBR, from Brazil; and Baidu Inc., stock symbol BIDU, from China.
References
Writer Bio
Tim Plaehn has been writing financial, investment and trading articles and blogs since 2007. His work has appeared online at Seeking Alpha, Marketwatch.com and various other websites. Plaehn has a bachelor's degree in mathematics from the U.S. Air Force Academy.