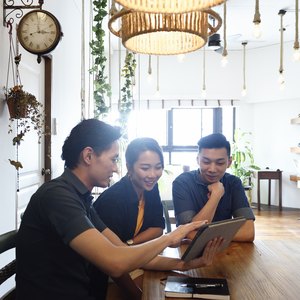 •••
Carlina Teteris/Moment/GettyImages
It's never too early to learn how to invest like a pro. And, millennials have a leg up – in terms of saving as well as investing – on the previous generation, Gen Xers. However, according to a recent Forbes article, millennials may be good at saving their earnings, but are more cautious when it comes to long-term or stock investments, which can hurt their retirement goals as they miss out on opportunities to have their money grow their money.
Exactly Who Are Millennials?
Although who falls under the umbrella of "millennial" may vary a bit depending on the source, recent financial studies on their collective investment habits, on the other hand, do not. The Pew Research Center, for example, considers millennials to be anyone born between 1981 and 1996. Sometimes referred to as Gen Y, millennials – contrary to popular belief – are not born in the year 2000, rather, the oldest in the group came of age in the early 2000s.
Older millennials, who were in their late 20s in the early 2000s, remember the global financial crisis of 2007 - 2009. Otherwise known as "The Great Recession" in the United States, the S&P 500 saw a loss of roughly 57 percent of its value and this tumultuous period could still be on the minds of many investing millennials planning for their retirement.
Millennial Investing Habits
71 percent of working millennials are saving for retirement, and at a younger age than Generation X, Forbes recently reported. The average median age millennials begin to save for retirement is 24, compared to Gen X's median age of 30, according to a Harris Poll conducted on behalf of the Transamerica Center for Retirement Studies.
The Transamerica Center for Retirement Studies poll also discovered that 39 percent of millennials are what is known as super savers, meaning they save more than 10 percent of their salary, a figure is much closer to the 15 percent that many financial advisors suggest. And, if the aforementioned doesn't attest to the saving prowess of this generation, one in six millennials have $100,000 or more tucked away for a rainy day, according to a Bank of America Better Money Habits survey.
However, a Charles Schwab & Co. client data study shows that 25 percent of millennial investments are in cash, while an Ally Financial survey revealed 66 percent of millennials aged 18 to 29 find the stock market to be intimidating – a figure nearly 10 percent higher than the 58 percent of investors aged 40 to 54. So, even though tech-savvy millennials are investing conservatively, and saving for retirement at a healthy rate, they may be jeopardizing their nest egg by not assuming a bit more calculated risk, and could benefit from a bit of portfolio diversification.
Diversify Your Portfolio
Although saving a good portion of your income is great practice, the goal of every investor is to realize the maximum return on their investments. Millennials often choose safer bets for their retirement money, with 20 percent reporting that their retirement savings is largely invested in money market accounts, cash, bonds and other conservative retirement vehicles, finds a Transamerica study. You've likely heard the old adage warning you to never put all of your eggs into one basket, nor do you want to put your nest egg into one investment.
Diversifying your portfolio is an investment strategy whereby investors have their capital spread among various investment vehicles. Technically you can diversify your portfolio by investing in a variety of mutual funds, but think more broadly. You will likely fare better and see better long-term returns if you spread your investments across several vehicles such as commodities, real estate investment trusts, foreign currency exchange or exchange-traded funds. Doing so will spread your overall risk should one sector or investment take a hit, meaning your portfolio won't be decimated by one bad investment.
Foreign Currency Exchange
Forex, or foreign currency exchange, is one of the largest financial markets in the world where all foreign currencies are bought and sold. These currencies are traded electronically without the need for a central exchange and require investors to stay up-to-date on market trends, news in addition to economic releases. According to Contentworks, a marketing agency specializing in the finance sector, 43.5 percent of forex traders are millennials – aged 25 to 34 years old – who also happen to be the most welcoming of new technology.
Forex apps that are available for both Apple iOS and Android help would-be forex traders learn the fundamentals, practice on market simulators and provide investors with access to current news at their fingertips. Forex has a bit of a learning curve, and it is vital that you thoroughly research your game plan or speak to a financial advisor before embarking on this portfolio-diversifying journey and investing real capital.
Peer-To-Peer Investing
Millennials are twice as likely to put their money into social or ecological and environmental investments, according to a 2017 Morgan Stanley survey. Because of this, peer-to-peer investing can appeal to both their fiscal and social senses of responsibility. Known also as P2P or marketplace lending, peer-to-peer lending links investors who partially or wholly fund loans with individual borrowers or even small businesses who are in need of a loan.
One popular P2P platform, Lending Club, touts itself as an "alternative investment" and notes a 4 to 7 percent historical return on investments. Investors need to make a minimum investment of $1,000 and the risk is spread out over multiple borrowers and loans; to become an investor with Lending Club, you must make a minimum investment of $1,000. Every P2P platform operates a little differently, so be sure to check out Lending Club's website for more information.
References
Writer Bio
Tara Thomas is a Los Angeles-based writer and avid world traveler. Her articles appear in various online publications, including Sapling, PocketSense, Zacks, Livestrong, Modern Mom and SF Gate. Thomas has a Bachelor of Science in marine biology from California State University, Long Beach and spent 10 years as a mortgage consultant.