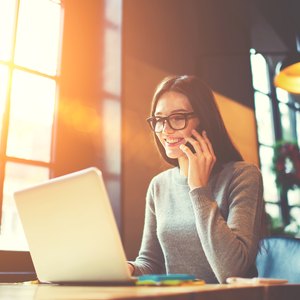 •••
GaudiLab/iStock/GettyImages
Got a problem in your life? There's a really good chance you can find an article explaining why it's a millennial's fault. Unfortunately, the generation born between the mid 80s and the early 2000s has been dealt a rough hand when it comes to the economy and their finances, which makes them an easy scapegoat for everything from why the housing market is changing to why people aren't getting married as early. There's a method behind their madness though, and some of their financial decisions may shock you.
1. They're Following Their Parents' Example
If you're looking for someone to explain why millennials are the way they are, start at home. According to a study by Fidelity, 65 percent of this generation said that they look to their parents for an example of how to be financially successful. Gen X and the Baby Boomers only reported this 56 percent of the time. So, it's possible mom and dad set a little bit too good of an example, and millennials are just taking that fiscal responsibility to the next level.
2.They're Serious About Financial Emergencies
Maybe it's because they grew up during the Great Recession, but that same study found that, on average millennials have a more robust emergency savings account than both Gen X and Boomers. While the percentage of millennials who have these accounts is lower (59 percent compared to 76 percent for Gen X and 68 percent for Boomers), the amount in them is larger and will cover up to six and a half months of expenses, if need be.
3. They Aren't Investors, Despite Investing
Sixty-three percent of millennials have an investment account of some kind, but only nine percent would qualify themselves as "investors." Fidelity found that 44 percent say they are spenders, 46 percent say they're savers, and only nine percent claim to be investors. This might be attributed to the fact that millennials are generally averse to financial planning advice and tend to do things themselves, so if they are more of a passive investor, they may see it as simply saving.
4. Saving For Retirement Is Top of Mind
Millennials are equally concerned with saving for retirement and with building an emergency fund, according to the 2016 Fidelity study. Out of the top financial issues pressing this generation, those two issues both came in at 44 percent. Next up was 38 percent concerned with paying for living essentials, followed by 33 percent who are preoccupied with reducing credit card debt, and 30 percent whose student loans weigh on them. Because these are the issues that they're facing, it's easy to see how it influences some of their other behaviors. For example, it's hard to buy a home with $100,000 of student loan debt on your credit, so a mortgage payment is out of the question for many.
5. Obsessed With Apps
Millennials are "app-sessed." As this generation matured, so did the technology they use. So, it should be no surprise that over half of millennials use apps for tasks like checking their bank accounts and credits cards. Slightly less than half, 49 percent, also use apps to pay their bills. Additionally, they use apps to check their retirement and brokerage accounts, but at a much smaller percentage, which makes sense since that's not usually something people check frequently.
6. Money Matters Are Stressful
Out of the millennials survey by Fidelity, one quarter reported worrying "all the time" about their future financial situation. This number is consistent among Gen X and Boomers as well, but highlights that when it comes to feeling the burden of financial responsibility, it isn't something that this generation shrugs off. They understand what financial hurdles lie ahead, just as the older generations do as well.
7. The Spend Hours Analyzing Their Finances
Between the three generations, millennials take the cake when it comes to obsessing over their finances. A report from Bank of America Merrill Lynch found that this group spends four hours a week going over personal financial matters – while at work. Gen X reports spending two hours of company time doing this, and Boomers only one hour. Experts suggest this is because there are so many short term financial stresses like student loans that cause millennials to revisit their budget often.
8. The Great Recession Did Serious Damage
The economic havoc wreaked by the Great Recession didn't spare any generation. However, it affected millennials' chance at their first post-college, "real life" job. In 2010, people between the 18 and 34 years of age endured a 13 percent unemployment rate, which was only followed by slow economic growth for nearly a decade. This means that people who were just starting their career earned between 2.5 and nine percent less annually than those who were able to get rehired elsewhere, according to the organization Think NC First. Something to keep in mind when wondering why millennials tend to be more frugal or cost-averse in some areas.
9. They're In the Lower-Middle Class, Not Middle
When the Great Recession was taking shape in 2008, 53 percent of millennials considered themselves to be middle class. Only six years later, in 2014, this number fell to 46 percent, with 25-46 percent identifying as lower-middle class. This indicates that while the economy as a whole recovered, these younger workers still hadn't felt the trickle down from it.
10. The Future is Bright
The good news for millennials is that they know they're young and that time is on their side when it comes to financial matters. Twenty-three percent report being financially comfortable with where they currently are and in the foreseeable future, but for the rest of them, 53 percent are confident they'll join the 23 at some point in the future. Interestingly, Gen X and Boomers are much more pessimistic, with 30 percent of Gen X saying they'll never reach financial happiness and 38 percent of Boomers, as opposed to 14 percent of millennials.
11. Household Expenses Are … Expensive
A survey conducted by PricewaterhouseCoopers (PwC) found that just under half of millennials, 41 percent, found it tough to meet their monthly household expenses. Add in their lower wages and slow economy and it's easy to see why. Because of this, 45 percent are forced to swipe their credit cards to make some of these purchases, which they wouldn't be able to afford without their credit.
12. College Loan Payments Rival Car Payments
That same PwC survey found that 40 percent of millennials have some kind of student loan debt. On average, people with these loans pay $280 a month. That's the amount of money that could be going toward saving for a down payment on a home or planning for retirement. In fact, 83 percent (of the 40 percent) said that these loans affected their other financial goals. So, when people say millennials have a "failure to launch" problem, it's important to factor in this extra debt –- which is around the price of a car payment – and the stagnant economy.
13. Earning a Paycheck is 20 Percent Harder
Did you read the part about the tough economy millennials inherited? Well, it's about 20 percent tougher than that of their predecessors. The New York City comptroller's office stated in a 2016 report that once slow wage-growth and high cost of living are factored in, millennials earn 20 percent less than Gen X did at this point in their lives. With that stress on top of student loans, it's no wonder it takes four hours a week to budget.
14. They're Big on "Sharing"
Remember when your parents taught you to share? Millennials really took that advice to heart. According to Goldman Sachs, millennials aren't bullish on buying homes, cars and designer goods, which is creating a new kind of economy; a "sharing economy." This system allows people to have these things without owning it. From Rent the Runway, where you rent designer items for a certain amount of time, to ride sharing companies, millennials are finding ways to make the economy work for them.
15. Social Responsibility Reigns King
Almost every single millennial is concerned with corporate financial responsibility, according to a study by public relations and marketing agency Cone Communications. They found that 91 percent of this generation will switch brands if they find another that's associated with a cause they believe in. If you want to win this generation's cash, you have to earn their hearts first.
References
Writer Bio
Natalie has her BA from University of California, Riverside and has worked in digital media for over a decade. She has been a Bleacher Report featured columnist for Bleacher Report and created content for some of the leading companies in the financial space.